Welcome to Food Week October 10. More food consolidation, this time with the retailers themselves. This week, we have the obvious – packaging bananas according to ripeness, the composition of black coffee and a high fiber diet causing gastric distress. And we have the less obvious – secret menus, the right way to stock your refrigerator and a billion missing crabs. Enjoy.
MACRO
But maybe the Fed is going about this wrong way.
Just a reminder, we have the equivalent of a September 11 every 10 days in this country. But the pandemic is over
RETAIL AND CONSUMER
Tofurkey will no longer be able to use terms like burger and sausage if a ruling from a U.S. Court in Arkansas has its way.
Kroger (number 2 grocer) trying to buy Albertson's (#4) as supermarkets consolidate further. A $24.6 billion deal . With Wal Mart and Costco, the top 3 would represent more than 50% of total market.
In Korea, some retailers pack bananas in sequential ripeness, which only makes sense: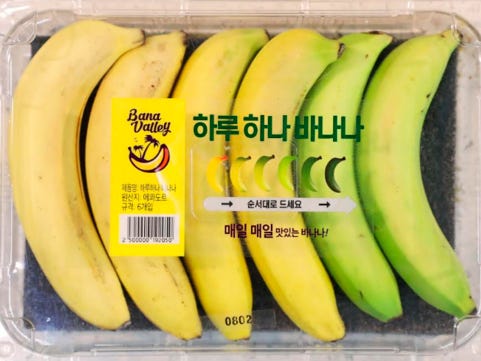 RESTAURANTS AND FOODSERVICE
Inflation helps Domino's recover from the pandemic.
Latest Starbucks/barista/TikTok viral outrage is about the definition of black coffee.
FOOD SUPPLY CHAIN
Cattle and environment stuff:

Ranching and other farming not only causing de-forestation but contributing to extinctions.
Brazilian cattle farmers selling off animals early because of a lack of rainfall.
Google is starting to track carbon emissions in recipes and cattle industry isn't happy with that.
1.35 million cases of salmonella illness per year in US. The USDA wants to decrease that number.
Forecast for Florida oranges is a reduction of 33%.
A billion (an estimate) snow crabs have disappeared from the Bering Sea. Warm water to blame but high prices at least in the meantime.
FOOD WEEK OCTOBER 10 LAGNIAPPE
You are doing it wrong: Martha Stewart tells you how to stock your fridge.
New diet – F factor – causing gastric distress and other ailments. Users suing becuase a high-fiber diet causing gas.